800ROSEBIG WHOLESALE WEDDING FLORIST 50% OFF SALE!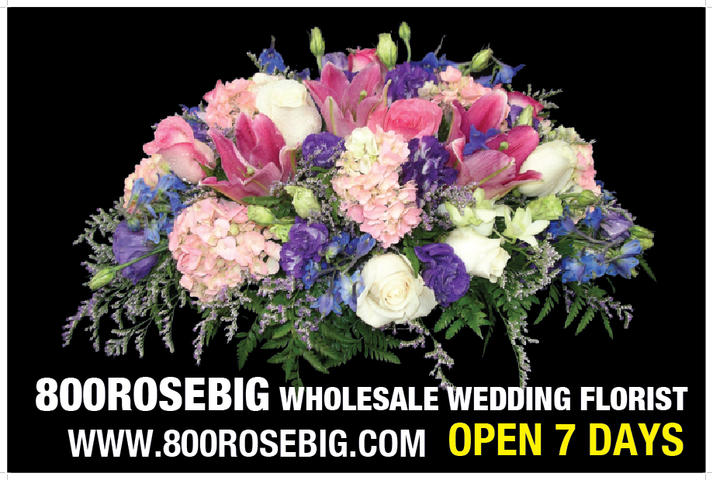 From the Vendor 800ROSEBIG WHOLESALE WEDDING FLORIST 50% OFF SALE!
SAVE 50% NOW OFF ALL WEDDING PACKAGES PLUS 4 FREE GIFTS! 800ROSEBIG Winner BEST OF 2015 FLORIST AWARD! FREE BRIDAL BOUQUET SPECIAL OFFER! GET CUPON FROM 800ROSEBIG.COM & EMAIL IN FOR FREE BOUQUET! FEATURED FLORIST ON BRIDAL CHANNEL TV NETWORK-WATCH OUR SHOWS EVERY DAY! SEE BRIDALCHANNEL.COM! #1 TOP RATED – LARGEST WEDDING FLORIST IN CALIFORNIA! SALE – 50% OFF WEDDING PACKAGES & 5 FREE GIFTS! Toss & Sample Bouquet, Box Rose Petals, 12 Roses for Cake, & FREE Rental Vases! DIY Brides-50 Roses $39 FREE Consultations 7 days! Call now & reserve YOUR date! WHOLESALE TO THE PUBLIC STUNNING ARRAY BEAUTIFUL!
Contact Info
3847 Birch Street, Newport Beach, CA
SERVING ALL CALIFORNIA!

Reviewed On 1/10/2016 | Assi C
Love my Florist! They showed me how to get the look I really wanted and the price was right! Less than the other 3 florists we went to, & the store is huge! Their were 6 other brides their when we got their and everybody was so happy with their flowers that I felt right away I was in the right place! They gave us free wine and snacks while we waited and it was worth it we saved over 1100.00 over the cheapest quote we got(my moms friend who is a florist lol) and the flowers were all so fresh and beautiful! Thanks to Freddy we are so happy! They really are the best!
2016-09-28T11:01:06 | Response From The Vendor
Beautiful flowers for a beautiful bride! So many of our Brides discover through our amazing consultations how to get that amazing look; for super low price. I'm so happy were the cheapest price for you and thank you so much for your kind words and referrals! 3 Brides have come in and looked at the pictures of your wedding and choose your look! Its excellent!

Reviewed On 1/01/2016 | Bradleigh C
Don't bother looking anywhere else. Whatever arrangement you have dreamed up, they will get excited right along with you and produce exactly what you wanted at the best prices.
2016-09-28T11:04:52 | Response From The Vendor
Yes, yes, it's true, we love doing beautiful wedding bouquets and arrangements, over 53 years experience, we have seen and got it all! Make no mistake 800 Rosebig is the largest wedding florist anywhere, we do over 1000 weddings and parties a year, all at wholesale prices that include full service delivery and setup. Our website 800Rosebig.com is rated on Google the number one wedding website To see! Watch the video reviews, their amazing!

Reviewed On 12/17/2015
OMG! BEST DEAL EVER! I just booked my wedding with 800rosebig this morning and I'm soooo happy happy happy. I got an email from the knot about their half price sale event and when I got to the store, it was amazing! First of all the place is huge, the biggest florist I have ever seen in my life, and it was already busy with other brides from the knot who also came in for the half price sale. I had such a nice time working with Freddy and Samantha. They made us all starbucks coffee and we just had so much fun. I'm on a tight budget so it was important to me to get the right price. Sam asked me what my budget was and then proceeded to show me an incredible wedding package loaded with roses and hydrangeas. She made me a sample on the spot and it was beautiful, really nice! I didn't think I could afford such a beautiful wedding, but she told me don't worry because she told me with the half price coupon and 4 free gifts, we might be able to work with my budget. Since my mom is paying for the flowers and told me that I couldn't spend more than $1500, I was pretty nervous because the other florists I went to told me I would need $4000 to $5000 to get the look I was going for. I was so happy when Sam came out with the quote for $1900 but then she added the military discount and saved me $320 dollars more! I called my mom and told her that the flowers were nicer than the other florists and that Sam was so nice that I wanted to book with her now and my mom said to go ahead. I'm so happy that I joined the knot and found 800rosebig today! I would definitely make them your first stop and ask for Sam, she's incredible.
2015-12-17T11:35:19 | Response From The Vendor
Yes we love the KNOT and since all Knot brides get the 50% off special offer now, plus the 4 Free gifts on the website its a huge savings on all! WE support our military 100% and the new military discount is huge! 800ROSEBIG is the largest and highest rated wedding florist in California now and we are very proud to be a part of your special day! Thank you and see you soon, Freddy and Sam!

Reviewed On 9/19/2016 | Jenn Q
Great flowers low prices excellent service that's my opinion of this company. I shopped around and I found that this was definitely the best place to go. The flowers are amazing the store is huge and the staff was very friendly. I saved over $1000 and they did the complete delivery and set up for me just perfect thank you very much!
2016-09-28T13:12:23 | Response From The Vendor
Thank you for your kind referral. Most of our Brides experienced a huge savings, 50% or more! 800 RoseBig decided that they they will sell high-end custom wedding packages for half the price of everybody else, they took the industry by storm! So many venues wedding coordinator started recommending us. Last year alone we did over 1000 weddings and parties! We won every award possible in the industry, from San Diego to Santa Barbara! The success of our 2 Florida locations followed quickly, with Orlando and Boca Raton. All of our packages remain flexible add Brides can customise them with any flowers they like! We thank you so much for your kind words & grateful that we could be part of your special day!

Reviewed On 6/11/2016 | Leslie D
I'm a destination bride and was really pleased to book my wedding order over the phone with 800 Rose big. They have the 50% off sale so I know they were way cheaper than everybody else and I noticed they won wedding florist to the year award many times so of course to get a lower price from an award-winning florist was a no-brainer. I ended up ordering 12 centerpieces One bridal bouquet and three bridesmaids bouquets we were on a tight budget they did it all for less than $1000 and I got beautiful roses and hydrangeas and everything! The flowers were stunning and Freddie really is a great designer and made everything just perfect!
2016-09-28T13:15:38 | Response From The Vendor
We are the number 1 choice for destination brides in California, hundreds of destination Brides found a great easy fun experience here booking their flowers either by email or by phone and then coming in finally to see samples to make sure it's all correct! Since we're open seven days a week till 9 o'clock it's easy for them to come anytime. Price is always an issue, here you get great value with the wholesale wedding packages, all flexible and beautiful! Freddie is an amazing designer and so nice to work with Glad you found him! Good luck in your marriage and best wishes, Natalie.

Reviewed On 6/09/2016
Beautiful beautiful flowers! 800 Rosebig didn't amazing job for my wedding in Newport Beach and Freddie the owner son was amazing he actually delivered and set up the whole wedding so everything went and Freddie the owner son was amazing he actually delivered and set up the whole wedding so everything went perfect and the flowers were super fresh and gorgeous. You gave me a great deal about $1000 cheaper but some of the other florist but what was so amazing was how much you really care about my wedding and pleasing me. I really write reviews but I felt I should give him a great one because he made me feel very important and happy during the whole process. I I think the quality is excellent and dealing with the family business it's been around for as long as they have is a big plus! If you really want to get a great deal and they deafly work with your budget go see Freddy and Herbert !
2016-09-30T11:23:55 | Response From The Vendor
Thank you, yes Fred is amazing and all the brides love him! Whats so nice about him is he really loves brides and cares about them all. Even the most difficult brides he spends extra time with them, and I think thats great. Many of use here have said to him when he helping a bridezilla [and we get a lot here in Newport Beach] He says their are no Bridezillas, their are only stressed out brides, so take your time with them, sometimes you can't please them all but you must try! We love his positive attitude and he is very successful!

Reviewed On 5/12/2016 | Paris T
AMAZING ARRANGEMENTS! So happy I chose 800rosebig for my wedding! They did an awsum job on my centerpieces and my bouquet was beautiful, so happy I had to write this! Fredy is so helpful, its easy to tell he loves his job and really cares about getting it right and pleasing all the brides. Go their and see Fredy his is really nice, thanks all at 800rosebig for making my day so beautiful and for the great deal!
2016-09-30T11:26:48 | Response From The Vendor
WONDERFUL BRIDE-BEAUTIFUL FLOWERS! As a family business for 53 years, Fred has taken charge is a very delightful way! His kindness and expertise has helped thousands of brides every year get great flower at very low prices. Now 800rosebig is the largest wedding florist in California and still growing with over 1000 wedding and party last year alone! Come see him and have a great time!

Reviewed On 4/17/2016
Love my wedding flowers so much! 800rosebig did a fantastic job! They are awesome! Freddy gave us a great deal and we just are so happy and really wanted to give them the credit they well deserve. My wedding was in Temecula at Wilson Creek winery and the local florists were so expensive then one of the staff suggested 800rosebig, she said they do a lot of wedding here and eveybody like their flowers, so we called Freddy that day and went down to the store. The place is amazing and exon was so friendly, we had a nice time, my quote was about half the other florist; but what was really so nice is that I really felt Freddy new what he was talking about, he is also very funny! everything turned out perfect and we are really pleased. Go and meet Freddy he is so nice!
2016-09-30T11:30:32 | Response From The Vendor
TEMECULA WEDDING ROCKS BIG TIME! This wedding was absolutely stunning, Fred designed it all himself and he said he loved it! So many weddings this year in temecula, Fred is drinking more free wine than ever! lol!~ Now he says with over 300 weddings in Temecula its time to open up our new store their!

Reviewed On 3/31/2016 | Tracey F
Wonderful flowers very pleased with 800 Rose Big! Since I go to college in Chicago, my mother did a lot of the leg work for me. She called me and told me about this amazing florist 800 Rose big that had wholesale prices much cheaper than everyone else and when she stopped in to see the flowers, they were absolutely gorgeous. She told me the store was beautiful and the staff was wonderful, especially Freddy who gave her a big discount, about $2,000 less than the other quote she received. She took pictures of the samples she showed her, and they were beautiful. I love them and best of all my mother said Freddy would be happy to meet with me a few days before the wedding and since all the packages were flexible, I could change them a little bit at no extra charge. This was really great because I wasn't exactly sure what I wanted even though my mother got it right with Freddy, I still wanted the opportunity to come in and see it for myself. Well, let me tell you things just got better when I came in, my favorite flowers were pianese flowers and even thought they were out of season, Freddy got them for me at no extra charge and they were beautiful! Now the amazing thing about 800 Rose Big is that Freddy has an open flower policy where all the flowers are the same price, WOW! He told me that his mother started the business 53 years ago and they were originally wholesalers, so they bought everything direct from the farms, super fresh and top quality. By the way the store is Huge, and I have never seen so many flowers in my life. While I was there I met three other brides that were working on their wedding flowers and we had a lot of funny, Freddy made us all cappuccino and I made some new friends. I cannot believe how easy it was at 800 Rose Big and it was the first wedding vendor that I actually had fun and a good time working on my wedding flowers. I must give a big thank you to Samantha and Justin who did the complete delivery and setup for me, they got their real early and were so nice and professional. Thanks again 800 Rose Big for making my big day so special and beautiful.
2016-04-10T08:08:09 | Response From The Vendor
Destination brides are our speciality! Thank you so much, after 53 years as the leading wedding florist in SoCal we have the experience and no how to create large custom weddings for a fraction of others prices, Freddy is so nice and accommodating, his mom started this company over 5 decades ago with a masters degree in botany and horticulture she truly is the expert in the industry and now Freddy takes over as the rising new star! Now since all our wedding packages are flexible brides can relax and enjoy the flexibility that they truly need. Wholesale to the public allows all customers to save big money while enjoying the friendlies service and the best quality. 800ROSEBIG WHOLESALE WEDDING FLORIST 50% OFF SALE! CALL FRED 949 698 2014! has won almost every possible award in the industry this year and is absolutely number 1 rated nationwide with 2 new stores in florida and soon NYC!

Reviewed On 3/16/2016 | Raquel K
Was so amazed and happy with my Bridal Shower center pieces and head table flowers. My guests could not stop complimenting the beautiful arrangements. I am so please with the customer service I have received and I am looking even more forward to seeing all the wonderful arrangements on my wedding day. Highly recommend 800rosebig for any occasion!
2016-03-16T21:50:31 | Response From The Vendor
OMG THANK YOU! wow, Regal will be so happy he worked so hard on you arrangements and everybody and I mean everybody, the customers and all the other brides said they were stunning! We pride ourselves on supplying the best customer service experience for all our brides, and after 54 years as the leading and largest wedding florist in SoCal, we keep learning and getting better! This is our 2nd 5 star review today, a new record for us! Thank you again so much! Samantha!

Reviewed On 3/16/2016 | Richard C
Stunning Beautiful Flowers! Since I got married in Temecula I really wanted a rustic look and when I went to 800 Rose Big and met Freddy, he showed me a wedding they were doing similar to what I was looking for. The problem was I was on a tight budget and all the other florists I went to wanted too much money, I told Freddy this and he smiled. He told me just tell me how much I could spend and he would shoe me how to do a beautiful wedding, I was kind of embarrassed and told him $600, right away he brought out a beautiful center-piece in a mason jar, decorated with burlap twine and Victorian lace. They were beautiful filled with beautiful hydrangeas and garden type roses. They look very expensive, but Freddy told me don't worry. He showed me how the bride supplied the mason jars and paid a dollar each, and he suggested I go to Michaels to get the lace and burlap. He showed me the 50% Off Sale and came back 10 minutes later with a quote for $660 providing I supply the vases! My mom was so pleased we pulled out her credit card and booked them on the spot! They did a great job and we paid a little extra to have everything delivered and setup. I highly recommend 800 Rose Big and of course Freddy, they were wonderful and I got my dream wedding for a price I could afford.
2016-03-16T14:13:39 | Response From The Vendor
Yes thank you so much! They say " YOU DONT HALFTO SPEND ALOT OF MONEY TO LOOK LIKE YOU SPENT ALOT OF MONEY AT 800ROSEBIG" and its true! Love those mason jars and thank you so much for your kind words, Samantha did your bouquets and she said she had so much fun with your wedding and when she delivered it, everything was so beautiful! Good luck on you marriage and best wishes to all!

Reviewed On 3/07/2016
Beautiful and unique flowers for my daughter's recent wedding. She worked with designer/florist Samantha and met with her several times. My daughter was confident throughout the process, as Samantha was great to work with and seemed to share her excitement with the plans. Samantha also allowed her to customize the centerpieces by bringing in some items in advance that were placed in the arrangements. It was especially helpful to meet with her a couple of days before the wedding to ensure the flowers were as planned and envisioned! We were also able to view different display options to allow us to pick the best one with the flowers in them. They turned out amazing!
2016-03-08T08:51:49 | Response From The Vendor
Thank you so much for your wonderful review and your business Samantha your designer was amazing at worked relentlessly to make everything perfect. It's great when the mother gets involved because she is the hero of the wedding making sure everything goes right. After 53 years we are now the largest wedding florist in California and we love you so much for your kind words. Samantha sends out a big kiss you and your daughter and again congratulations on a wonderful wedding a great marriage and we wish you all the best of luck in the future and of course many many grandchildren!

Reviewed On 3/04/2016 | Lynn C
Very please with the flowers and services. I'm surprised more florist don't operate as nicely as 800rosebig. We visited serval others that ether seemed not to care or didn't want to take the time to talk to us. One florist told us if we weren't going to spend 3500 they wouldn't do a consulting visit. We are a military family and on a tight budget of 1000. 800rosebig welcomed us and gave us a first class treatment! Fred also gave us a military discount of 600 to start and it all worked out perfectly! The price was right and the flowers were excellent! Regal my designer worked with me every step of the way made my day beautiful! I ended up spending about 1200 but that's because I upgraded to candelabra centerpiece sat the last meeting. They loaned me the tall gold ones for free! Wow so very pleased and that's for everything!
2016-03-08T09:00:15 | Response From The Vendor
At 800 Rosebig we are so happy help our military brides and veterans have an amazing wedding at an affordable price! It's an honor to do a military wedding and of course we are military family. Our company was started 53 years ago, Natalie at that time was one of the first female business owners and now at 88 years years old she still comes in every day for an hour or so keep an eye on everything. Her talents and experience still guide us and her standards are very high. Thru much hard work and by only using the best quality flowers we can achieve excellent results. Your flowers were beautiful and of course super fresh. As a female owned company we are so pleased that we have the opportunity to help so many brides make their special day beautiful! We also thank the KNOT for the excellent service is helping 800ROSEBIG get the word out that here, a bride doesn't half spend a lot of money to look like she spent a lot of money! Thanks again and best wishes for a happy marriage and beautiful family!

Reviewed On 3/02/2016 | Sue S
Beautiful flowers perfect for my wedding! Freddy and regal were absolutely amazing and was such a pPleasure to work with. I really enjoyed my experience at 800 Rose big I could tell from the moment I walked in the store but I was in the right place! I came in to see you about the 50% off sale they were having and I'm so glad I did not only did they save me a ton of money but they gave me for free gifts including loaning me beautiful gold candelabras for free. My dream wedding was candelabras but so many Florist wanted such huge amounts of money for them that I knew I couldn't afford them until I came to 800 Rose big and took advantage of their sale! My centerpieces were loaded with hydrangeas and white roses Casablanca lilies with a touch of curly willow and my bridal bouquet was gorgeous with white peonies and garden roses the groom's boutonniere was mini calla lily from top to bottom everything was perfect and when I previewed my flowers a couple of days before the wedding I was thrilled and very happy overall I'm so lucky I found 800 Rose big they really are fantastic the flowers were super fresh and top quality and the same designer that made my centerpieces did the entire delivery and setup for me! I've already referred one of my coworkers and she got the same do I got and now we're both having candelabra weddings lol!
2016-03-13T08:27:28 | Response From The Vendor
Thank you so much your wedding flowers were absolutely stunning! The gorgeous hydrangea, Casablanca lilies and of course the Gold Candelabras! What was so funny was that as we were making your centerpieces, customers were coming into the shop seeing how beautiful they were they kept trying to buy them lol, as a of fact one bride looked at them and said that's exactly what I want for my wedding and ordered the exact same centerpieces! That happens a lot at our store, since we do about 1000 weddings a year we always are working on 5 or 10 weddings all the time, when a bride comes in for a consultation she actually can view so many arrangements we are doing for the other brides weddings! Its really great to see so much at one time! We really appreciate your business and thank you very much! We have just added video reviews to our website 800Rosebig.com now must watch for all KNOT brides see how the brides loved their centerpieces at their previews, here from the moms and brides maids and more! Thanks again and best wishes!

Reviewed On 11/20/2015
Best experience of all our wedding vendors! Wow, they are great super nice flowers and cheap prices made my day! I love the hydrangea and rose centerpieces with the dusty miller. My bouquet is roses, calla lilies and ponies. All white and blush pink. They offered me a free toss bouquet and free rose petals for down the isle. Very nice indeed! Mom and my sister really liked everything too. 800rosebig does the delivery and setup too. Its a very large shop with a big free snack bar and free wine!!!! We had fun, Freddy is so cool and funny, watch his show on TV., you can't miss it they have 10 tv sets all over the place showing all their shows on bridal channel, a bit much but I guess they are proud to be chosen to do a wedding tv show, its nice, so all and all everything is great and we are very pleased, I already recommended the to 2 of my girlfriends.
2015-12-17T11:38:45 | Response From The Vendor
We are so proud to be featured on the Know and Bridal Channel TV this year! Brides can watch us every day on TV or on ROKU and Apple TV now. The half price sale event is a huge saving for all that want to get a great wedding at super low prices and any of our brides can go on the Bridal Channel TV show and be a STAR! The knot even may have their own show on Bridal Channel as those conversations just started! We look forward to more great stuff from the Knot and Bridal Channel as they are both the leaders in the wedding industry!

Reviewed On 11/17/2015
Wonderful beautiful flowers! Freddy and his staff were so wonderful that they made my dream day so beautiful first of all let me tell you that they have the most beautiful store and everybody was so nice to me, when I came in for my consultation the place was bubbling what lots of other brides ordering their wedding flowers so I knew I was in the right place and when I met Freddy and he started doing the consultation I could tell he really cared about me and really want to please me so I book them on the spot . The flowers they showed me were gorgeous and the price was about half the price of some of the other quotes I God and of course wedding wedding florist of the year right here on the knot just gave me a great feeling about these guys and I'm so happy I book them . I was watching them on TV there on the Bridal Channel and they invited us to come on the show! My girlfriends love the show that are coming on with me , so please if you want beautiful flowers much much cheaper had a great experience I really recommend Freddy! They even gave me free sample flowers to take home and they lasted over a week and my mother who used to work in a florist years ago said that they were top-quality. My venue The reef in Long Beach recommended them and said they do a great job and they seem to be here every week doing weddings.
2015-12-17T11:42:29 | Response From The Vendor
Thanks for the kind words and watching 800rosebig Experience Show on Bridal Channel, we love your flowers so much and love that so many brides today enjoy our big sale events! Many brides really want a great glamours wedding package and now with our 50% off sale event, we can get that for them at a price that they can afford! WINNER BEST OF WEDDING FLORIST ON THE KNOT IS AMAZING AND WE THAT ALL THE BRIDES THAT HAVE VOTED FOR US THIS YEAR ON THE KNOT!

Reviewed On 11/06/2015 | Danielle O
Really budget friendly!
I pretty much Yelp everything I do, so when I saw that 800Rosebig had the highest rating, they were my first place to go. I met with Freddy and have spoken with him on a couple occasions now and he is always very friendly and always seems interested in helping to find the best value for my dollar. So not only do great ratings, the price was phenomenal and fit right in our budget! Below actually. Additionally, when I expressed to him that I'm a creative person and I wanted to share some inspirational photos to influence my arrangements, he welcomed me to email them over. And although we haven't had the wedding yet, my venue's on-site coordinator has assured me that 800Rosebig's arrangements are very beautiful and their service was awesome. I pretty much trust my coordinator with my life right now so that was very good to hear! I can't wait to post an updated review on how beautiful my wedding flowers were. So excited!

Reviewed On 9/29/2015 | Cortney W
Beautiful arrangements and really nice staff, Freddy was so helpful and made my day go so nice. We are an out of town bride and his designers we amazing! The flowers were super fresh and I love the pink pines he got me for my bouquet! That was my dream flower! The shop is huge and they really take great care to make everything go perfect!

Reviewed On 9/23/2015 | Crystal
My new Wife and I are so impressed with 800RoseBig! Seamless from beginning to end. REGAL was amazing. He was friendly, professional and right on point with the flower designs. SAMMY was helpful and went above and beyond during the delivery process. And FRANKY took care of all our needs as well. We just loved how everyone worked so well together as a team.

Reviewed On 9/23/2015
Seamless from beginning to end. REGAL was amazing. He was friendly, professional and right on point with the flower designs. SAMMY was helpful and went above and beyond during the delivery process. And FRANKY took care of all our needs as well. We just loved how everyone worked so well together as a team. My new Wife and I are enthusiastically pleased.

Reviewed On 7/20/2015 | Audrey A
Great service and flowers!
I recently had my wedding on 6/13/15 and used Freddie's florist services for my wedding. I should note that during pre-wedding planning, I somehow became borderline neurotic about making sure that I got the best deal without compromising quality. Ok, fine…perhaps I was a little Bridezilla (!). I also was planning my wedding out of town so it was difficult to pop in whenever I wanted to schedule appointments. But, I digress. I researched all over Orange County to get price quotes of what I wanted. After several calls, I thought I had no choice but to settle because the prices were insanely high or the quality of the centerpieces/bouquets were just not up to my expectations. In a last ditch effort, I called to set up an appointment with Freddie at the last minute thinking I might as well stop by since I had to make a trip to my venue. I was SO glad that I did. Freddie was awesome. He really makes you feel welcomed and most importantly, works with you to give you a good deal. Fast forward a few months before the wedding: REGAL was AMAZING throughout the entire process. When I started to second guess my choices and became very indecisive, Regal provided me honest feedback and assured me that he would have everything taken care of. He was uber patient! 🙂 I trusted some of his artistic opinions and he truly listened to my ideas and changes (even the day before the wedding!) Shoutout to Sam for the gorgeous bouquet. She was super sweet. I got so many compliments! I sincerely recommend that every bride make an appointment with The Plant Lady Store (800ROSEBIG).

Reviewed On 5/30/2015 | Carol M
Unbeatable price, awesome quality!
I could not be happier with Grace and her crew with my wedding flowers. She has what it takes to make your big day look amazing!! When we were discussing which flowers to use, she understood all my needs, even before I finish talking. When she gave me the price I could not believe because she made us save a lot of money. She answered all my last minutes requests with all the patients someone can have with a bride. I could not be happier with her services, and my flowers look amazing!!

Reviewed On 12/18/2014 | Sue Nuygen
Love my florist exceptional creative designs
Love my wedding flowers so much I had to write this review these guys here didn't exceptional job on my wedding bouquets and centerpieces Friday from the first moment I met him seem to really care about saving me money and when I picked up beautiful centerpieces from their pictures he showed me how to get them at a great low-priceddoes save even more money he lonely all the bosses for free and explain to me how much more money I could save by repurpose sing flowers from my reception to the ceremony indeed we saved over $1600 and everybody was so nice about it . We had stopped into other florist nearby their quotes were really high they didn't really have any flowers to show us and by the way Freddy made us a sample on the spot that was beautiful and we really like the fact that his main concern was keeping our price down a butt delivered the most beautiful arrangements 800 Rose big is the place to go there store is big and beautiful and everybody there was really nice they made my special day even more beautiful.

Reviewed On 12/08/2014 | Diana & Ted
Wow Great flowers such nice people!
Review written 12/8/2014 I'm so super happy with Freddy and his designers, the flowers were absolutely wonderful and super fresh. Everybody at my wedding loved them! Even my really picky girlfriend that spent so much more on her wedding flowers and they weren't even so nice. I had a great experience booking my wedding, they allow for changes anytime & have lots of free gifts. At my preview the day before, I was blown away! You must see the video they took of me on their website! If you want great wedding flowers and super low prices these are the guys! I have highly recommended them to all my friends! Diana & Ted wed date 12-7-14 amount 880

Reviewed On 12/02/2014 | Naty K
EXTREMELY PLEASED BRIDE & GROOM!
Fabulous flowers and excellent customer service! I rarely write reviews but these guys deserve the best, I can't tell you how happy my husband and I are about the absolutely beautiful wedding flowers that 800rosebig did for our wedding. Freddy and the staff were so warm and friendly and they guided us to this beautiful wedding like it was their own. Were weren't sure we can afford such a beautiful wedding but Freddy said not to worry, and he would show me how to get the price way down. Once the sample was done I we were all delighted it was perfect!. Freddy added extra hydrangea to my tall arrangements and made them perfect! He added lots of freebees and made it all work within our budget. They did the complete delivery and set up for us and we did not have to lift a finger. And best of all they were $1400 less from the cheapest quote i got and that florist wasn't even giving me these big beautiful arrangements. I highly recommend them to any bride that wants beautiful flowers especially if you're on a budget.

Reviewed On 9/14/2014
We got a great deal on our huge wedding! Thanks 800rosebig your great!
I have 2 friends at work here at Apple and when I told them how much the other florist wanted for my wedding flowers, the sent me an offer from the Knot for 50% off sale at 800ROSEBIG! They both used them and said they were great and cheap, I quickly joined and we ran down to see the big event! Its was awesome, Rigo and Susan were wonderful, they showed us everything and even made us a sample on the spot! My mom loved it so much we had to find out the cost, wedding flowers are so expensive and to our delight and surprise it was 800.00 less than the other florist who had a small little shop and never made us a sample, we booked on the spot! Rigo gave us both free bouquets and we all so pleased, and by the way at this point we were on our 2nd glass of wine, the have a free cafe too, but we weren't driving, my fiancee was, so we had a blast, the place is way cool and we had the best time, you must go see them and tell Rigo and Susan I sent you!

Reviewed On 9/12/2014
They really got it right! Awesome price, Beautiful flowers!
Well this pace is way cool, I mean they have it all! When we got the email from the Knot we had a good felling about 800rosebig so we went their on Sunday, First I will say my wedding arrangements were absolutely beautiful, so many flowers, they were overflowing with garden roses, dahlias hydrangea and casablanca lilies! We real never expected them to be so nice, way pleased, even my mom who is so picky, she used to work for a florist, love them, they charges us less that half the other florist quoted us and we really needed a break. Next, the free wine and expresso bar, lol! yes I used that a lot! lol, really they have such nice people and everybody did a great job!, Herbert was fantastic, they delivered and set up everything on time and stayed to make sure I was happy, they really car about their brides and with such a big beautiful shop, we were all very impressed from the start. Oh and before I forget, Freddy even got me ponies-out of season- for my bouquet at no extra charge! Thanks guys your the best and 2 of my girlfriend are coming in too book with you, they really loved all my flowers, so order more wine, were coming back!!!!

Reviewed On 9/11/2014
The most fun & best vendor for my beautiful wedding!
Girls, I usually don't write reviews but this place deserves a great one, first of all my flowers were beautiful and super fresh. Fred and the guys really out did themselves, from the free gifts and super low price we never thought it would be so nice! Must see the video of us on their website, 800rosebig.com! If you love garden roses and hydrangea this is the place for you. What really was so nice is the way they treat you, from the start the store is huge, I mean huge…they have so many flowers and they made me a sample on the spot! They called me in a few weeks before the wedding to go over and review it all and do the final tweaking they call it, we added 2 more centerpieces and a set of cake flowers. Then they asked me to pop in a few days before just to check on everything, so I did, I was so pleased thats when the made the video, we had the best time and thanks again Fred, Herb and Ingrid!

Reviewed On 7/25/2014 | Rebekah M
Amazing Wedding Flowers
This florist is a great resource! They were so flexible and easy to work with. They let me pick whatever I wanted and let me work with the budget. They let me provide my own vases. I loved how they let me pick up the flowers myself and preview the arrangements the day before to make sure that they were exactly what I wanted and they even changed things on the spot for me.

Reviewed On 5/21/2014 | Katie M
Gorgeous Flowers!
I LOVED my bouquets! They were incredible. I had all red roses. And I bought vases from Freddy so that the bouquets could safely sit on the head table and act as our centerpieces. (Plus my bridesmaids got to take their bouquets back to the hotel in beautiful vases which was so nice.) Everything was gorgeous. I could not be happier.
2014-05-24T15:20:12 | Response From The Vendor
THANKS AGAIN FOR THE TOP REVIEW! WE LOVED YOUR GUYS! NOW WE ARE LEADING ALL FLORIST WITH THE HIGHEST AMOUNT OF 5 STRA REVIEWS PAST 2 YEARS ANYWHERE! TOP RATED, SUPER LOW PRICES AND FRIENDLY SERVICE! SEE OUR NEW 4000 SQ FT LOCATION, HUGE, BEAUTIFUL THE BIGGEST AND THE BEST! THANK YOU!

Reviewed On 1/24/2014 | Jane F
BEAUTIFUL FLOWERS AWESOME EXPERIENCE!
JIM AND COMPANY CAME HIGHLY RECOMMENDED BY MY WEDDING COORDINATOR. WE WERE SO PLEASED WITH THE TOTAL EXPERIENCE, STARTING WITH THE STORE, IT WAS BIG VERY CLEAN, AND LOADED WITH ARRANGEMENTS. WHEN I SAT DOWN TO LOOK AT PHOTOS I RECOGNIZED MY FRIENDS PICTURES WHO RECOMMENDED ME. I WAS SO EXCITED WHEN I FOUND OUT THAT WERE FOUR FREE GIFTS AVAILABLE!! THE MOST IMPORTANT THING WAS THAT I WAS NOT RUSHED. JIM AND THE DESIGNER TOOK THIER TIME IN SHOWING ME ALL THE OPTIONS THAT WERE AVAILABLE. HAVING THE ABILITY TO MAKE ANY CHANGES WAS VERY REASSURING. I WAS VERY EXCITED ABOUT COMING BACK FOR A FINAL REVIEW AS THIS GIVES ME AND MY MOM SOME TIME TO THINK ABOUT ALL THE THINGS THAT COME UP AT THE LAST MINUTE. I WAS REALLY IMPRESSED WITH HOW THEY MENTIONED ALL SORTS OF WAYS WE COULD SAVE MONEY, AS I AM ON A TIGHT BUDGET. THE FREE VASE RENTAL SAVED ME ALMOST $300!! KNOWING THEY WERE GOING TO DELIVER AND SET EVERYTHING UP WAS A BIG RELIEF! ALL THROUGH THE PROCESS WE WERE GIVEN A NICE CHOICE OF STARBUCKS, BOTTLED WATER AND SODA. THE CROWNING TOUCH WAS WHEN I SAW THE PLAQUE THAT SAID THEY WON "BEST OF FLORIST" FOR 2013. THEY ARE VERY MODEST AND HUMBLE PEOPLE WHO REALLY HAVE YOUR BEST INTEREST AT HEART. BOOKING MY FLOWERS IS A BIG THING AND THEY MADE THIS SUCH A WONDERFUL EXPERIENCE. THANK YOU JIM AND LINDA FOR MAKING THIS SO EASY AND FUN, AND SAVING ME SO MUCH MONEY!
2015-12-17T11:32:41 | Response From The Vendor
Thank you so much! Its great to be able to create so many custom wedding packages at half price! Since we won WEDDING FLORIST OF THE YEAR AWARD FOR 2015 so many brides love us. We are so pleased we made your special day so beautiful with gorgeous arrangement all at wholesale prices!

Reviewed On 1/23/2014
FABULOUS EXPERIENCE – GORGEOUS FLOWERS @ HALF THE PRICE!
WE HAD AN AMAZING TIME CHOOSING OUR WEDDING FLOWERS. JIM WAS KIND, PLEASANT AND SEEMED TO GENUINELY CARE ABOUT MY WEDDING. OF ALL THE FLORISTS I HAD BEEN HE SEEMED TO BE THE ONLY ONE WHO REALLY TOOK A SINCERE INTEREST IN MY NEEDS. HE TOOK THE TIME TO SHOW ME ALL MY CHOICES AND OPTIONS AND EXPLAIN EVERYTHING TO ME. WOW! WHAT A WONDERFUL GUY! NOW WHEN LINDAA CAME OUT WITH A SAMPLE CENTER PEICE I WAS ASTONISHED AT HOW BEAUTIFUL IT LOOKED. THERE WERE THREE OTHER BRIDES THERE ORDERING THEIR FLOWERS ( THAT'S ALWAYS A GOOD SIGN, A BUSY SHOP!) SO I KNEW I WAS IN THE RIGHT PLACE. THE QUOTE WAS SO LOW ABOUT TWELVE HUNDRED DOLLARS LESS THAN THE CHEAPEST QUOTE I HAD GOTTEN AND THE FLOWERS WERE TWICE AS NICE! I MADE MY DECISION AND BOOKED ON THE SPOT. NOW I KNOW WHY THEY WON FLORIST OF THE YEAR. HE GAVE ME A FREE SAMPLE BOUQUET AND HUGGED ME AND I REALLY FELT A GREAT CONNECTION. BY THE WAY, THE STORE IS BEAUTIFUL, AND BY FAR HAD THE BIGGEST SELECTION OF FLOWERS I HAD SEEN ANYWHERE. I HIGHLY RECOMMEND THEM, MAKE THEM YOUR ONE AND ONLY STOP!

Reviewed On 1/10/2014 | Susie L
800Rosebig was great, professional, and flowers were gorgeous
I had my wedding in November 2013 at La Costa Resort and Spa. The venue is huge and Freddie was able to deliver. He was able to get the flowers I wanted, within the budget I needed (he suggested some beautiful 'filler flowers' that did not look filler to add/compliment to the expensive flowers I wanted and had in my wedding), and was flexible with my order just like he promised from the start. I had my wedding in Carlsbad and yes drove all the way out to Newport because his price was competitive. Several of my vendors commented how big and beautiful the flowers in my hair and my bridesmaids hair were-so beyond pleased with the flower hair pieces. The flowers lasted all day and did not wilt (as some other florists tried to deter me from real flowers in our hair). If you are looking for a quality, affordable, and fun florist then you have found one with Freddie. I only wished I lived closer to the store because then I would be coming by more often to contribute more often to this great business. Best of luck to you Freddie. Thanks for making our wedding beautiful!
2014-01-11T13:07:04 | Response From The Vendor
Thank you! Your flowers were stunning! Since we just won BEST OF FLORIST FOR 2013! We have made so many brides special day a big success! Our 50% off wedding packages are fantastic. Now after 53 years and over 5000 weddings, we are so happy we made your day special! Good luck and god bless!

Reviewed On 1/08/2014 | Rita
Beautiful flowers!
Freddy & Herbert were great people to work with. Freddy provided us the flowers we were looking for within our budget. The bouquets and the flowers on the arbor were gorgeous! The menzenita trees that we ordered as our centerpieces were great as well! Herbert put blue hydrangeas and white roses at the bottom of the tree, it was great. I called up Herbert the day before the wedding letting him know I need him to make me a cake topper using some white roses and he did it! They were accommodating as well in delivering the flowers earlier since the photographer needed my bouquet for pictures. Thanks Freddy & Herbert!

Reviewed On 1/04/2014 | Vivian N
GREAT PRICE AND AMAZING SERVICE!!
I absolutely recommend going to 800ROSEBIG! I came in today without an appointment and was just browsing, but Freddy sat down with me and my bridesmaids immediately. I showed him some pictures of the flowers and he came up with GREAT ideas for my center pieces and bouquets! I was able to get 6 bridesmaids bouquets, 1 brides bouquet, 6 groomsmen boutineers, 1 groom's boutineer, 2 boxes of rose petals, an arch breach, 10 centerpieces and I even got the groomsmen's boutineers upgraded to orchids all for under $1400 including taxes!! That's an amazing deal! You will not find that deal with great quality anywhere else! He even gave me and my bridesmaids free sample flowers to bring home.

Reviewed On 12/19/2013 | Kelsey T
Rustic Rescue
You may be asking how I was "Rescued" in my Title, Well my fellow brides or brides to me you know that planning a wedding on a strict budget or any budget can be a panic attack waiting to happen! I was literally digging in couch cushions to find spare changed to pay for my wedding searching high and low for great but fair vendors. Two weeks before my wedding we say "what are we missing….?" FLOWERS!! immediately my mother and I got online and searched and came a crossed 800 Rose Big we were set up with an appointment the next day, we came in met with Freddy and he took the stress away! I told him the theme of my wedding and he said "trust me" pick X amount of flowers that you like and ill work my magic! Him and his brothers stayed up until midnight the night before my wedding making these beautiful bouquets that brides were trying to buy the following day. The best part of my entire experience was he stayed in my budget! He didn't try to jip me he was fair and honest, Rancho Los Lomas is a very popular place to get married in orange county and they RAVED about my flowers. Thank you 800Rosebig for making my day one to remember!

Reviewed On 12/01/2013 | Paulina R
Great Florist
I was really impressed with the service that 800RoseBig offered for my wedding. The flowers were beautiful and were exactly what I had asked for. Everyone at the wedding loved the flowers. The hours of 800Rose Big are awesome for working brides, which is what really made them stand out from other florists which I couldn't reach. The price was much lower than other florists and they worked with my budget. The delivery was on time and professional. Anyone who works with them will love their service!

Reviewed On 11/19/2013 | Zareen C
Dan and Zareen's wedding at Orange Hill – 11/2/13
I loved every moment of meeting and planning my flowers. I received so many compliments at the wedding. The florist listened to my colors and request for the look of the arrangements, my bouquet, as well as the getting me the flowers I wanted. I will be going back to them for flowers for other occasions as well. I highly recommend them. They were the most reasonably priced as well.

Reviewed On 10/28/2013 | Kencarol
Great to work with
The florist company was great to work with in preparing for the big day. Freddy who is the owner was understanding and helpful. The great thing about this place is that they are able to make changes with you all the way up to the date of the wedding!! I made about 3 different design changes before the big day and Freddy and his staff were very accommodating.

Reviewed On 10/22/2013 | Sarah P
Beautiful flowers and worked within our budget
Freddy is awesome. He has beautiful ideas, but doesnt poo-poo if you have a different inspiration or concept that you are thinking of. He knows what he is doing and provided us with beautiful bouquets and centerpieces. Our original quote was quite a bit of over our budget that my husband and I had discussed, but after explaining how we couldnt do that price, we reworked the flowers and figured out what would fit. He is extremely flexible and had no problem with the changes I asked for as the planning went along. His staff are reliable and I had so many compliments about how beautiful the flowers had looked on our special day.
2013-10-23T16:29:01 | Response From The Vendor
Yes Yes Yes your flowers were outstanding! And you were so cool to work with, it was great fun, and after 53 years as the top wedding florist, we still got it! So much thanks and god bless you all! Flexibility and style are the key points to a great wedding, price is always easy here because we are also wholesalers we have the best quality and freshness!

Reviewed On 10/09/2013 | Jennifer P
WOW!!!!!!!
When my sister walked in with the flowers, I just couldn't believe how great they looked. Then she told me "wait to you see yours, it will take your breath away" And she was right 🙂 I have gone to 3 other florist to price flowers out and they were the cheapest and the friendlist. They listen to what I wanted and didn't think I was crazy when I told them I wanted different bouquets for each brides maids. I will for sure be using them again 🙂

Reviewed On 9/25/2013 | Molly J
Perfect florist
my wedding flowers were beautiful!!! Also if anything happens to your flowers day of. flower breaks, wrap comes undone he will fix it for you, No charge…However I did not need this service I was glad it was there.
2014-01-11T13:09:22 | Response From The Vendor
Yes Yes Yes, your flowers were beautiful! We thank you and all the KNOT Brides for all your support in making us the #1 WEDDING FLORIST! Now you don't half to spend a lot to look like you spent a lot ! Keep in touch and don't forget us for valentines day & mothers day!

Reviewed On 9/14/2013 | Darla D
Affordable and good quality
Everyone was very nice and helpful. The flowers were very affordable and good quality.

Reviewed On 9/08/2013 | Jane L
Delighted! Great experience gorgeous flowers! SUPER LOW PRICE!
AMAZINGLY SATISFIED, I MUST TELL YOU HOW FANTASTIC MY EXPERIENCE HAS BEEN WITH ROSEBIG. It's so rare to get exceptional value, stunning flowers and to top that all off excellent service and the lowest price I could find anywhere. My fiance and I went looking for a wedding florist and visited them all. We are on a tight budget, about $1,000. The florist we visited quoted us high prices, and no samples. And quite honestly it seemed that they didn't care about doing a wedding at our price. The prices were so high that my fiance said, "let's do the flowers ourselves". So we started to look for a wholesale florist, thats when we hit the jackpot! When we arrived at rosebig, I knew immediateley we were in the right place. The shop was packed with flowers. There were 3 other brides working on their flowers, as I saw the sample being made and heard the prices I couldn"t wait to see what mine would be. They were so nice and offered us starbucks, chocolates and snacks. I must tell you the arrangements were beautiful and the price was under our budget and this included free rose petals, toss bouquet and sample bouquet. I placed my order on the spot reserving the date with a small deposit. Since I wasn't sure how many center peices I'd need they invited me back a month before the wedding to review my order and to make any adjustments I'd need. They said the orders are flexible and we can make any changes that we need. I really feel that they care about each and every bride regardless of the size or price your wedding. It was a fun, easy and fast exerience!They also do the delivery and set up! I would reccomend them anytime. Make rosebig your first stop!!

Reviewed On 8/31/2013 | Amy K
Amazing Flowers at a reasonable price!!
I found 800RoseBig on the Knot, I called and spoke with Freddy. He was so friendly and easy to work with, not to mention a fraction of the cost of other florists I had spoken with. I was a little nervous as I had to do everything long distance. I sent Freddy my Pinterest link and he told me they would turn out beautiful and not to worry. When I saw my flowers for the first time, which was a couple of hours before our wedding, I was speechless! They were the most amazing and gorgeous flowers!! They looked EXACTLY like the style of bouquets I had posted on my Pinterest page! Ingrid was the designer and I can't thank her enough! Everyone commented on the vibrant colors and excellent quality of the flowers! They truly were the most beautiful mixture of flowers and the colors were perfect!! I would ABSOLUTELY recommend 800BigRose if you want spectacular flowers at a great price!! Thank You again Freddy and Ingrid!!
2014-05-24T15:17:46 | Response From The Vendor
Thank you so much! As the winner of THE BEST OF FLORIST 2103 AWARD we continue to show brides they can afford the best! Now a new truly amazing improvement, THE NEW VIDEO REVIEW PAGE ON OUR WEBSITE ALLOWS BRIDES TO SEE AND HERE DIRECTLY FROM ALL OUR BRIDES, IT PUTS ALL OUR WEDDINGS IN THE SPOTLIGHT! MUST SEE GREAT TESTIMONIALS WITH THEIR FLOWERS AND EVEN BETTER HERE FROM THE TOP VENUE OWNERS AND WEDDING COORDINATORS TOO! ALL FANTASTIC 5 STAR RAVES! WOW!

Reviewed On 7/18/2013 | Angelina V
Amazing Floral Arrangement
TOP QUALITY…BEAUTIFUL…LOOKED LIKE A MILLION BUCKS…AFFORDABLE! Freddy, Linda and Herbert made our wedding absolutely beautiful!!!
2013-07-19T10:55:14 | Response From The Vendor
Amazing, wow we did it again! A fantastic wedding at a great low price! Thank you so much, we really care to make all your request come true! Please recommend us! All the best! Linda, Fred Herbert!

Reviewed On 5/19/2013 | Nicole O
Perfect florist
my wedding flowers were beautiful!!! Also if anything happens to your flowers day of. flower breaks, wrap comes undone he will fix it for you, No charge…However I did not need this service I was glad it was there.
2013-05-25T07:38:02 | Response From The Vendor
BEAUTIFUL FLOWERS FOR SURE! WOW, THANKS SO MUCH! WE REALLY CARE ABOUT ALL OUR BRIDES ON THEIR SPECIAL DAY, THEY ARE SO IMPORTANT AND WE WISH YOU AND YOUR FAMILY ALL THE BEST! OUR DESIGNERS ALWAYS DELIVER AND SET UP THE ARRANGEMENTS, WE BRING EXTRA FLOWERS FOR A TOUCH UP IF NEEDED, THIS GUARANTEES THE PERFECT WEDDING! NOW WE ARE OPEN 7 DAYS A WEEK FOR ALL YOUR FLORAL AND PARTY NEEDS!

Reviewed On 4/16/2013 | Diem N
Beautiful Flowers!
We just had Freddy and his team do our wedding flowers and I can only say, "WOW"!!! My wedding flowers were gorgeous and exactly what I wanted, actually even better than what I told them to do! When I first met Freddy, I brought in my big binder of things I wanted done and ideas of what I wanted. We discussed what we wanted and he gave us a good deal. Freddy is totally willing to compromise and make you feel like you're getting a really, really good deal. A week before the wedding, we met with Freddy for our final consultation. I was a little hesitant about the suggestions he was giving me since it wasn't what I envisioned. But when I saw my flowers on my wedding day, Freddy and his team delivered the most gorgeous flowers and exceeded my expectations! They gave us extra flowers and didn't charge us more money! The bouquet was full and our centerpieces were full of flowers! Thank you Freddy for being so accommodating and being so awesome!!
2013-07-19T10:56:20 | Response From The Vendor
Fantastic wedding flowers are the normal here, we love your so much, after 53 years of being the top wedding florist we still got it! Thank you so much and god bless!

Reviewed On 4/09/2013 | Amy M
Great value and beautiful
I ordered my bouquet, my bridesmaids bouquet, button holes and corsages and I received flowers for my cake for free. Freddie was really helpful and suggested some great flowers that I hadn't though of. I did not want roses but ended up with a beautiful bouquet of lilies and orchids. I sent fabric to be wrapped around the stems and the did that at no charge. Everything I ordered arrived at the venue on time and ready to go. It all looked beautiful.
2013-04-10T10:00:26 | Response From The Vendor
Thank you so much! Your wedding flowers were beautiful and you a beautiful bride! We love to give our brides that extra special care & free gifts! Good luck and god bless!

Reviewed On 4/04/2013 | Jessica B
Truly can't believe it
I just want to start by saying the deal I got from 800rosebig is too good to be true, and yet it's true. Cliche, I know. But still, bear with me. We have a large wedding with a LOT of floral needs. I'm on a budget, so my original plan was to buy all the flowers wholesale and have my family do all the arranging the day of the wedding. I knew it was going to be stressful and unpleasant, so when I saw the ad from 800rosebig I decided to just go check it out and see what they could offer me. They offered me EVERYTHING. Literally, everything. They are doing all the centerpieces (over 40 vases of different shapes and sizes), my bouquet, my 9 bridesmaids bouquets, 5 corsages, flower girl petals, set up, delivery, EVERYTHING for basically the same cost that I would have spent on just the flowers. I budgeted 1200 for flowers doing all of the work myself. 800rosebig is doing everything for me for 1500. As far as I'm concerned, the relief of knowing they will be professionally done and my family doesn't need to stress about it is worth an extra 300. Freddy at 800rosebig was very friendly. He gave me an extra 10% for being military and I really am just in awe of the value we're getting. I HIGHLYYYYYYY recommend at least going down and talking to them about your flower needs. I don't think you will be disappointed!
2013-04-05T17:06:27 | Response From The Vendor
THANKS SO MUCH FOR YOUR SUPPORT! WE LOVE YOUR WEDDING FLOWERS AND ARE GRATEFUL OF YOUR FEEDBACK! 800ROSEBIG, WHERE YOU DONT HALFTO SPEND ALOT TO LOOK LIKE YOU HAVE SPENT ALOT!

Reviewed On 2/08/2013 | Anne P
Above and Beyond
Very affordable flowers. The florist even added additional flowers to make the colors I picked work. All the arrangements were beautiful and I loved my bouquet. Really did a top notch job.
2013-04-10T10:02:19 | Response From The Vendor
We really had a great time with your wedding flowers and it was so much fun! We wish you and all your family all the best! Glad you enjoyed the best and had a great price!

Reviewed On 1/23/2013 | Pam S
PERFECT FLOWERS FOR A PERFECT WEDDING!
Perfect Florist for a Perfect Wedding! Very happy with this Florist, We just moved in and my fiancee got me the 50 rose special for 39.99, it was big and beautiful! The roses lasted about 12 days, so now we are planning our wedding for next year so I really wanted to use this place, the flowers we so nice and fresh. When I stopped in the had a huge shipment of exotic lillys and hydrangea, I felt very comfortable here and the staff of designers were all very helpful of helping me choose my wedding flowers, I got white vandella roses and casablanca lillys for my okay and matching centerpieces for the tables with the white hydrangea. This was so nice, they all really cared to show me everything and made me a sample on the spot! Ingrid was so nice we really hit it off! He son Matthew was there, he is 18 months and so cute! Anyway we booked our wedding here and feel we have made the right choice. The price was great too, less the half the price my girlfriend payed at another florist, and she had a much smaller wedding! Ingrid gave me a free sample okay and really cared to make this so easy and fun! You must try them, the are GREAT!
2013-04-10T11:14:30 | Response From The Vendor
THANK YOU SO MUCH! SINCE WE ARE ALSO WHOLESALERS WE HAVE THE FRESHEST HIGHEST QUALITY FLOWERS AND ALWAYS HAVE A HUGE SELECTION, THATS WHY OUR ARRANGEMENTS ARE SO BIG AND BEAUTIFUL! 50% LESS IS A GREAT SAVINGS PLUS WE HAVE THE 5 FREE GIFT COUPONS FOR THE KNOT BRIDES!

Reviewed On 11/02/2012 | Susan L
Creative Designs Yet With Low Prices
When I first arrived at the shop (without an appointment), I was asked to wait a few minutes while a van was being loaded with beautiful flowers for a wedding. That was fine by me because it offered me the opportunity to see the types of arrangements and the quality of the flowers that were being used by this florist. I felt comforted after viewing the creative designs that were going to make some bride very happy later that day. When we sat down to talk, I showed Freddie pictures of flowers/bokays that my future daughter-in-law wanted. I was put in charge of finding the right florist since my son and his fiance both live in Chicago, but they are being married here in Southern California. Freddie was both encouraging and enthusiastic and I knew I was in good hands. The bonus to all this is his amazing price! He knew we were on a budget, so he worked with us and give us a great price! The wedding is only days away and I can hardly wait to see the reaction of our guests when they see his creative ways with flowers. Thanks Freddie.
2013-07-19T10:53:31 | Response From The Vendor
Top Quality, excellent service, creative beautiful designs is our standard! We love our brides and really care to make their dream wedding come true! Thank you so much! A great wedding at a low price! wow! Tell your friends!

Reviewed On 10/13/2012 | Susan C
Very Pleased-Excellent Flowers!
I must tell you a great story, while shopping for my wedding flowers we went to 800Rosebig, as soon as we walked in we were greeted by a very nice staff of friendly designers very busy finishing a big wedding for the next day, right away I loved the centerpieces and what was really the best were that they were so big and full….when I asked how much I was surprised at the low price! My fiancee was happy for the first time, I mean we got such high quotes on these big pedistal arrangements from the other florists that we had been too, that this was a relief, here they we like half the price and beautiful! Now we could afford to get them! They really seemed to care to cover all the basis and kept telling us that we could make any changes we wanted anytime! They have free rental of the vases and pedistals so that help alot. With that being said we left feeling relieved that one less thing to worry about and that we had ordered the best wedding flowers that I had hoped for! They even gave us free sample flowers to take home. So everything works out if you keep trying, lucky for us we found them and I hope all of the knot brides go see them!
2013-04-10T11:16:23 | Response From The Vendor
THANK YOU, WE LOVE DOING FANTASTIC HIGH END WEDDING AT HALF PRICE, THATS WHY ALL COME TO US! WE REALLY LOVED MEETING YOU AND HAD ALOT OF FUN! PLEASE TELL YOUR FRIENDS ABOUT US TOO!